---


Prices may change without notice
Two night minimum advance booking on weekends and three night minimum on Holiday "long" weekends.

---
Welcome to the Lionheart Guest House and B&B "In the Heart of Lion's Head"

Nestled amongst trees, manicured lawns and gardens, Lionheart Guest House is located centrally within the picturesque village of Lions Head. Built in 1898, during the reign of Queen Victoria, much care was given in maintaining its history while renovating the Guest House in 2008.The area is known for it's clear waters, salmon fishing, deep water sailing, historic light house, rock climbing, the shear cliffs of the Niagara Escarpment, caves and a Natural Bridge to name a few.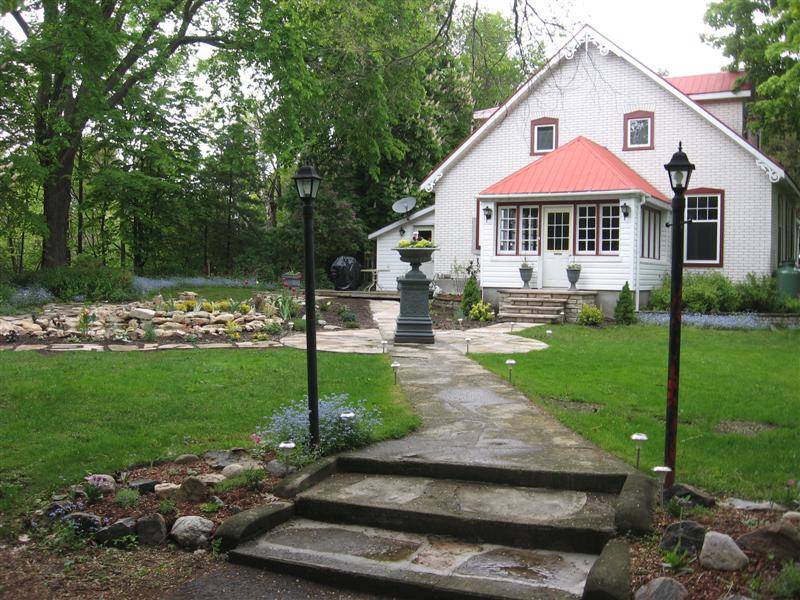 Lion's Head Amenities include:
• Gift Shops
• 3 Restaurants
• Royal Bank
• Library
• 4 Churches
• Post Office
• L C B O
• Grocery Store
• Hardware
• Garage with mechanic
• Hospital & Medical Clinic
Day trip Ideas:
• The Bruce Trail is literally at our back door!
• one block away from public sand beach, marina & boat launch on Georgian
Bay
-gas fireplace
-wide screen, flat screen TV
-"Star Choice" satellite
-surround sound
-maple floors
-formal dining room
-gas Bar B Q
-use of kitchen
-wireless internet
-complementary tea and coffee
-Victorian Decor
-Queen size beds
-4 bedrooms, 3 en suite
-3 1/2 acres to explore
-trees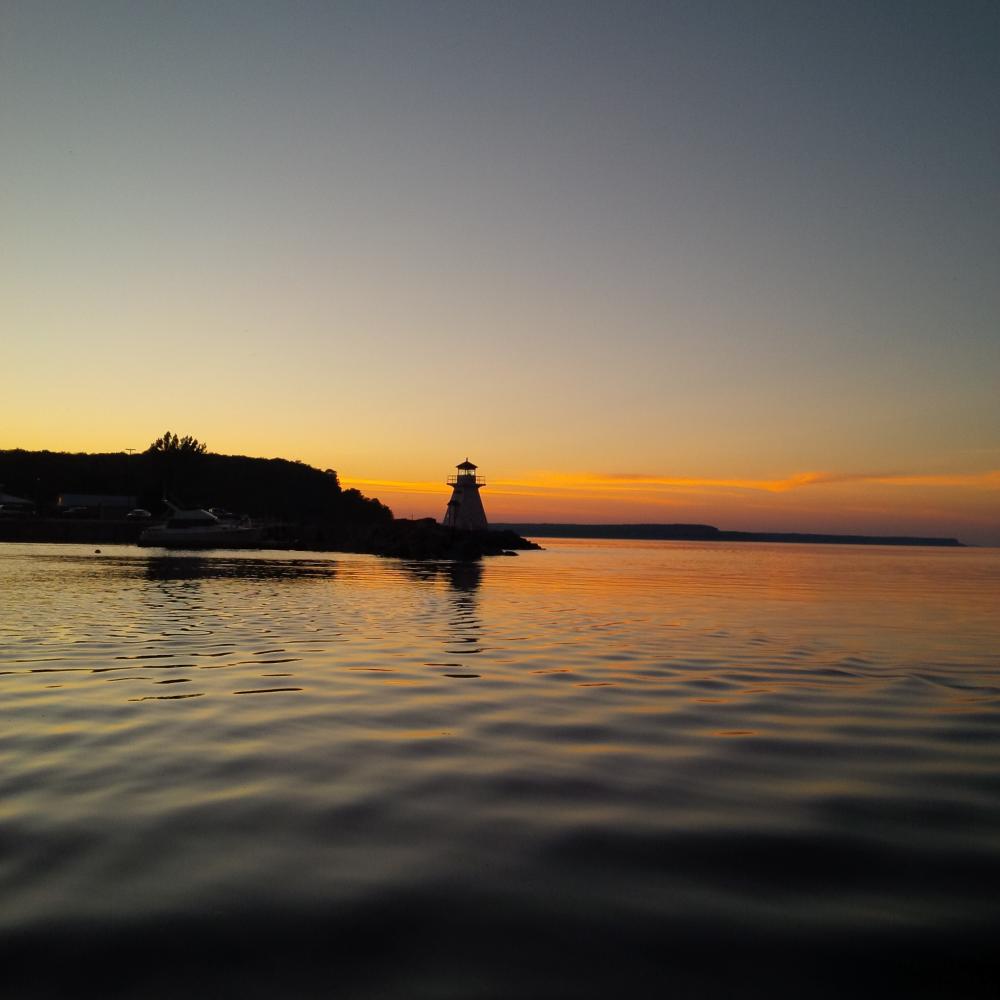 Doug is an avid hiker and Trail Captain for a section of the Bruce Trail on Cape Dundas. We offer a warm welcome to all those who value and enjoy the Niagara Escarpment and the incomparable Bruce Trail.

Need trail shuttle? Ask us about rates and availability
Guest House is ideal for hiking groups, scrap booking weekends, and small family reunions.
We are open year round!
I Recently had a Guest from Ireland ask me for some suggestion of things to do when they come to stay with us. Below is my response, perhaps the reader will find these suggestion helpful also.

Nice to hear from the Emerald Island.
I do have some suggestions. I will list them in proximity to our location

1. Walking Tour of Lion's Head. (1-4 hours) -leave from Lionheart
visit the beach, the marina, the Light House, the cave, the little waterfall and dine at Marydale's, Rachel's or the Lion's Head Inn.

2. Hike to the Lion's Head Lookout (2-5 hours)-leave from Lionheart or Drive to Moore Street side trail
take the Moore street side trail to the Main Bruce Trail and see the "Pot Holes" and walk along the top of the Niagara Escarpment with views out over Georgian Bay, to the Lookout.
extend the hike to McKay's Harbour and see the "Erratic" stones scattered along the beach.

3. Sunset Boat Ride on Isthmus Bay-walk to the marina from Lionheart
convince your hosts (and it won't be difficult) to take you out to see the features along the Lion's Head Promatory: Twin Rock, the Horses A...(back side), the Eagles Nest, The jumping rock, The Two Sisters (Ancient Cedars), and the "Real" Lion's Head. You may even see climbers on the rocks.

3b. Kayak Georgian Bay-walk from Lionheart to the beach (pulling the kayaks)
your hosts have two kayaks, and others can be rented locally. This activity is very weather dependent and only for those comfortable on small crafts in big water.

4. Swim at Sandy Beach-10 km drive
drive to Black Creek Provincial Park off Myles Bay Road, find parking lot and change rooms, views to the south west.

5. Watch the Sunset over Lake Huron and Lyle Island. (12 km.)
drive to the end of the Spry Road. get out of the car with your camera, and start taking pictures.

6. Fishing off the pier at Stokes Bay, (12 km)
try angling off the Government Dock at Stokes Bay, no luck, drive down the road to the Tamarac Causeway.

7. Explore Greig's Scenic Caves (15 km)
drive south on Bruce County Road 9 to the Scenic Cave Road. Admission charged.
-still have some energy left go to the parking lot at the end of the Scenic Cave Road and Hike the Bruce Trail/Pease Side Trail Loop (2-3 hours)

8. Canoeing on Miller Lake (20km)
Rent Canoes at Millers Family Camp

9. Visit St. Margarets Church and the Devils Monument. (the heaven and hell tour) (25km)
St Margarets is a little Stone church in the Community of Cape Chin, on the Forty Hills Road. Further on turn R. on to the Cape Chin North Road and to the Parking Lot on Borchardt Drive, and then it is just a short walk to the Devil's Monument. (a land locked sea stack, similar to the more famous "flower pots".) Be sure to hike to the shore and see the natural springs at the base of the Escarpment. Great place for a picnic lunch along the rocky shore.

10. Cabot Head Lighthouse (50km, maybe not quite but it sure seems like it)
scenic drive through Dyers Bay. Don't miss the short walk to Wingfield Basin when you are at the lighthouse.

11. Bruce Peninsula National Park-Cyprus Lake Road, (50km.) you will need to allow 2-3 hours minimum.
There is a nominal fee to enter the park. take one of the trails to Georgian Bay and see the "most visited and beautiful" km. of Bruce Trail, this section includes the "grotto" a cave at the waters edge with an underwater opening to Georgian Bay.

12. Tobermory. at the tip of the Peninsula (its not the end of the world, but you can see it from there) 50km
lots of little shops (visit Golden Gallery, and tell them Doug and Marlene Hill sent you. it won't get you any deals but guaranteed to be an ice breaker)
plenty of activities to do in Tobermory: a. Glass Bottom Boat Rides to Flower Pot Island (Tell them Doug and Marlene Hill sent you, and they'll say, Who?) b. canoe and kayak rentals, bike rentals, adventure park, National Park Visitors Center, Fish and Chips.

13. Swim at Sauble Beach. (50 km)
a world class beach within a one hour drive. take the west Road to the Sauble Falls Parkway. Sauble has great sand and water and lots of things (activities for kids) to do.

Hope this is helpful, I'm sure you will have a great visit with us.

Best, Doug